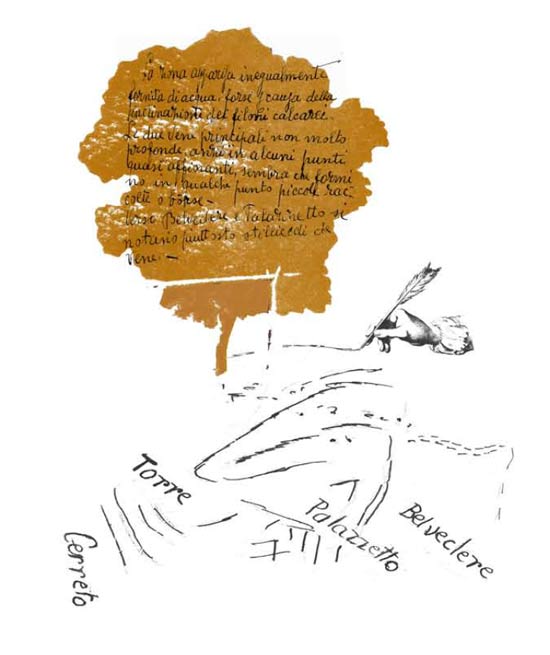 "Humanity is but a part of the fabric of life — dependent on the whole fabric for our very existence. As the most highly developed tool-using animal, we must recognize that the unknown evolutionary destinies of other life forms are to be respected, and act as gentle steward of the earth's community of being."
Turtle Island, Gary Snyder
In Torre Colombaia woods it is possible to follow two sound paths, having a mp3 player and headphones; listening to a narrator you will be guided along the paths through the trees.
1. Sound Walk on the flora and fauna of the forest.
2. Sound Walk on what peasant life was like in the countryside in the 50s.
1
A sound walk in the woods of Torre Colombaia along the paths in the woods to discover the characteristics of its flora and fauna. Along the paths indicated by numbered signs you can follow a special guided tour by listening to the voice of the naturalist accompanied by music and sounds of the forest.
The loop path winds along a small portion of the forest, including the pond. Listening to elaborate and unique sounds the visitor is informed about the distinctive characteristics of the various species of oaks, the vegetation of the pond and the characteristics of insects, birds and mammals that inhabit this protected area.
2
A sound walk in the woods of Torre Colombaia while listening to the stories of peasant life in the Umbrian countryside during the end of sharecropping in the Fifties and Sixties of last century.
The attempt to restore value and reinstate oral culture in the daily knowledge of new generations, as a necessary basis for a better understanding of our present.
It will be like opening a book and relive, through the stories of the people interviewed, the rural life of the past with its stories, its slow times and its rituals. The attempt to give continuity to our collective memory.
We interviewed people who had previously lived, worked or simply passed through the forest of Torre Colombia during the past, and thanks to these voices, it was possible to create this sound path.
This project is an attempt to reconstruct the ancient knowledge that has ever been passed down from generation to generation and is now in danger of being canceled if we do not work to keep it alive as an indispensable knowledge for living in harmony with the places where we live and the land on which we walk.
Sound Designer of the sound paths Vincent Roudaut