Torre Colombaia is the ideal location to host holistic groups looking for a place to conduct seminars, workshops, intensive, and residential courses of activities and disciplines dedicated to the growth of human potential, such as yoga, bioenergetics, music, dance, naturopathy and any other natural discipline.
ACCOMODATION
The property offers two different modes of accommodation to groups, according to their different needs.
The groups smaller than 15 people can be accommodated in the hunting village consisting of three independent apartments with bathroom (with our supply of bed linen and towels), kitchen, heating and fireplace.
Groups up to 30 people can be accommodated both in the apartments as described above, and in the rooms of Cerreto farmhouse, where there is also a shared dining room, where guests can eat in case they decide to enjoy our excellent cuisine.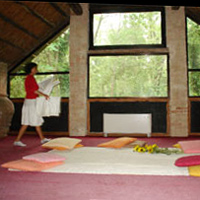 CONFERENCE ROOMS
Next to the houses through the trees, available for the groups' activities there are two multi-purpose halls, they are cosy, comfortable and bright, and may contain, respectively:
• up to 100 seats in the theatre for an area of 120 square meters (spring and summer),
• up to 15 people for an area of 50 square meters (with air conditioning and heating).
NATURAL COOKING
The compliments received and the experience gained in recent years make us particularly proud of our ability to combine good taste to the most diverse dietary needs: groups can take advantage of our organic food and the wide variety of special cuisines (vegetarian, vegan, Kousmine, macrobiotic, gluten-free diet, etc..) that we will be happy to prepare for you.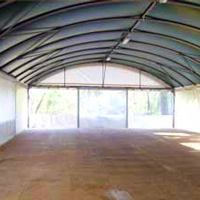 Also there is the possibility to use our spaces as follows:
• Rental of conference rooms for one or more days seminars
• Rental of pitches for groups' camping
• Free internet
Torre Colombaia means HOSPITALITY FOR GROUPS
ALTRE ATTIVITÀ DI RELAX NELLA NATURA
The centuries-old forest that surrounds the farm Torre Colombaia is a unique and special place, as well as hosting group activities, which will be positively affected by the magical silence and harmonious vibration of the surrounding nature, in your spare time you will enjoy this wonderful natural setting and moments of relaxation and serenity as well as eventually decide to engage in the following activities:
Walks in 100 acres of oak forest surrounding Torre Colombaia, a former hunting reserve, today it is a repopulation area for pheasants, hares, ducks and doves, where you can bird watch from sighting huts on the shores of the pond which is located in the heart of woods. An expert guide – for groups – will be at your disposal to accompany you to visit the forest, through the marked trails, even on foot. You can also arrange tours and horse riding lessons, 1 km from Torre Colombaia www.maneggiosanbiagio.com or take a swim in the swimming pool 5 minutes from the estate;
Kundalini and Hatha yoga individual and group classes;
Torre Colombaia relies on the collaboration of highly experienced yoga teachers;
Sat Nam Rasayan treatments (deep relaxation in the True Name, find out more by visiting the website www.satnamrasayan.it and shiatsu massage;
Organic and vegetarian cooking classes with our organic products;
Sound Walk in the woods;
Visits to the Hemp Museum.